I've recently been on a nostalgic Star Trek kick and have had trouble finding someone to share my trekker feelings with. It's very fortunate that Smith's School of English Kyobashi has such a wide range of students with a vast number of interests. Unable to contain my excitement one day over the new Star Trek movie in production, I made a comment in the lounge before class that was swiftly picked up by a relaxed student who had otherwise appeared asleep. I've known him ever since my first day at Smith's because he's been here much longer than me. However, I hadn't known that he was a Star Trek fan at all, much less that he "loved" the original series.
So, in between lessons and at the beginning of classes, we've been chatting about Star Trek and the recent developments in the franchise. He was very excited to learn about the new season one box set available in HD DVD format. He didn't know what re-mastering meant so I explained what had been done to the original episodes in order to bring the special effects up-to-date with today's technology. The painted backgrounds have now been replaced with computer generated ones, rendering them spectacularly so that they now look very realistic. The special effects have been redone to give everything a bolder look and feel. Neither of us have seen any of these re-mastered episodes yet but the previews look very promising.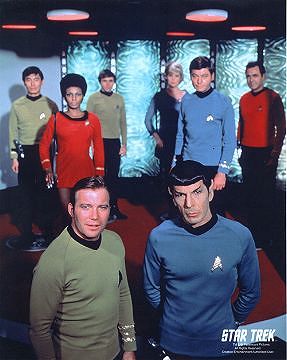 As for the movie, we both agree that the new movie won't be able to either replace the original actors or the dynamics they had on-screen but it will still be worth watching for the sheer thrill of it.
This student has always been interesting to strike up a conversation with but now more than ever because of the common interest we have in Star Trek.